Wednesday, September 2, 2009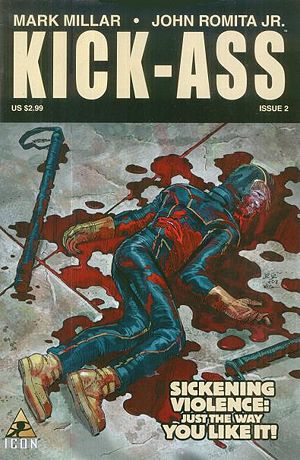 From /Film:
Lionsgate Films has made too big movie release announcements today, for the R-rated comic book film Kick-Ass and the action throwback The Expendables. Details after the jump.

Matthew Vaughn's big screen adaptation of Mark Millar's Kick-Ass will hit theaters on April 16th 2010, scheduled up against Piranha 3-D and MacGruber. As many of you know, the film was independently funded because none of the studios wanted to tackle the story which fused ultra-violence with children (the be more specific, a 10 year-old who chops bad guys in half and spews vulgar obscenities). The film was bought by Lionsgate after sneak preview footage rocked San Diego Comic-Con International 2009, topping most top ten lists for the Con.
Kick-Ass tells the story of (beware of possible comic book spoilers) "Dave Lizewski, a kid growing up in a rundown suburb of Americ. He isn't a gamer, he isn't a jock, he isn't a mathlete, he's just a regular kid. When he is not hanging out at the local comic store with his friends Todd and Marty, he is fantasising about his school teacher and Katie Deauxma, the class hottie. The only thing that is unusual about Dave is that about a year ago his Mother died. But somehow through this blend of normality, teenage angst and irritation at being continually mugged, Dave makes the decision to become a superhero' KICK ASS! Dave's first foray into being a Superhero results in him being stabbed and run over. When Dave recovers he realises he can't walk away from being a hero, and when he successfully steps in on a mugging he brings himself to the attention of the US media and Frank D'Amico could this be the guy who knicked his coke? As Dave gets sucked into the dark world of vigilante crime fighting he gains a sidekick named 'Red Mist'."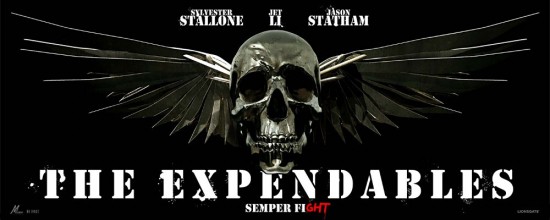 Sylvester Stallone's The Expendables will hit theaters on August 20th 2010. It sucks that we'll have to wait so long to see this film, but the fact that Lionsgate is booking the film for August (even late August), shows that the studio believes they have a Summer movie on their hands. The film features a who's who list of action film stars, which includes: Stallone, Jason Statham, Jet Li, Dolph Lundgren, Eric Roberts, Randy Couture, Steve Austin, Terry Crews, Mickey Rourke, and cameo appearances by Bruce Willis and Arnold Schwarzenegger. The story follows a highly-trained team of deadly combat mercenaries, to go on a mission to South America to overthrow and execute a villainous dictator.
Both looking to be really fun movies. I love Mark Millar's storytelling, and I'm sure Kick-Ass will be no exception to that rule, and the footage we have seen looks great so far. As for The Expendables - where else will you find a collection of actors like that who all want to just whoop as much ass as possible?

0 comments: