Friday, June 6, 2008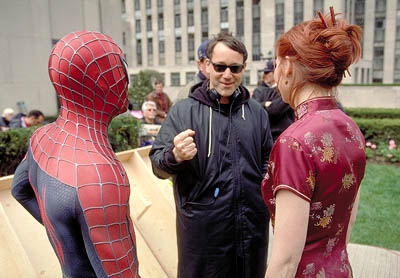 We are getting more and more Spidey 4 news by the week. It is exciting to get this news every time because I'm such a fan of the Spiderman series thus far (3 was not as awesome, but still a fun flick with some good stuff in it). Anyway, we get 2 main bits of news as recently J.K. Simmons and Sam Raimi have spoke up about developing Spiderman 4 news. First, J.K. Simmons (J. Jonah Jameson) said to IESB.net on a recent visit,
IESB: So we know that James Vanderbilt just turned in a script for Spiderman 4 have they reached out to you yet or anything?

JK: We, sort of, check in once in a while, they say, y'know, we want JK to do it. We don't know where. We don't know when. We don't know who. We don't know anything, y'know? They signed all of us for the first three films. Sam, Tobey, all the way down the line to me and, we'll see where it goes. I also, I mean, it's all conjecture and you guys probably know more than I do at this point. There was talk of doing four and five concurrently and I don't know if they're still considering that or not and, y'know, I spoke to Tobey in, I guess it was February…sort of awards season time and, y'know, he's certainly amenable to doing some more and hopefully we'll be able to get everybody back and make another good one.

IESB: Or a couple of them?

JK: Couple, three, four, five! Whatever, you know, I could buy a bigger house.

IESB: What if Sam decides not to come back as a director but stays as a producer, would you guys still be-
JK: Well-

IESB: Would you and the rest of the gang still come back.

JK: Well, I can only speak for myself, but, if Sam were not the director but was, still had a hand in it then I would certainly have a reasonable amount of faith in it. You know? Obviously if he's the director I'm there a 100%. If he's not involved at all, which I think is VERY unlikely, then it would be a situation that I would have to think about. But if he's involved, hopefully directing or at least as a producer then I'm pretty confident that it would be something that I want to do. Plus they pay money.



Sam Raimi had this to say about Spiderman 4's future,

"James Vanderbilt is writing the script and I'm excited to read it. I think it's going to be done in a few months," Raimi told us, adding, "I'm hoping it's as great as our discussions were about it and I'm hoping it feels right for me because I love Spider-Man. I'm hoping I'm well rested enough to embrace it and I'm hoping Sony wants me to do it. If all of those things come together, I would love to do it. There are a lot of unknowns about the future."

And how does he feel about re-casting key players if needed? "I'd hate to re-cast anybody in the future, I can't imagine that."



Well, this is all pretty good news. It seems that as long as a great script is available and Sony wants Raimi, we may get the entire cast back together (I wonder if they can convince Kirsten Dunst as she originally said she would only do 3). My mind is racing with the possibilities, but I REALLY want to see The Lizard, and we know from previous interviews that this is Raimi's favorite character. I say it's time.
0 comments: